Fine materials and meticulous manufacturing processes make all the difference.
Manufactured from durable four millimeter High Density Polyethylene Fiber composed of linear macromolecules saturated with non-substituted aliphatic hydro-carbons. This material contains continuous multifilament and resists abrasion, moths and bacteria.

Subject to exact quality control procedures; stretched and heat-set to give regular and stable mesh sizes. These processes guarantee the Katchakid's performance through the uniformity of mesh size and knot tightness.

Chemically treated with laboratory developed maximum UV stabilized inhibitors, the Katchakid is resistant to fading, deterioration or shrinkage when subjected to harsh climatic conditions. This material is also resilient to pool acid, pool chemicals and does not hold or absorb water.

Unlike any other pool safety net, the Katchakid has a unique diamond slim line design. The mesh, when fully secured, is square in shape, but the material resumes its original diamond form when the tension is released. The diamond construction ensures a manageable, streamlined flow that reels up evenly and smoothly over the EZ-Roller.

Available in three color options -Ocean Blue, Jet Black or Desert Sand.
| | | | | |
| --- | --- | --- | --- | --- |
| | | | | |
| Jet Black | | Ocean Blue | | Desert Sand |
KATCHAKID'S CENTRAL TENSION SYSTEM – CTS
Katchakid's CEO, Blair Esson, pioneered and patented the initial Central Tensioning System (CTS) in 1988. The CTS today is a multifaceted system that uses a series of pulleys set in a circular fashion to open and close the tension ring of the net. The net can be adjusted from tight to very tight and is CTS – Central Tension System designed in such a way that most children under 12 years of age cannot remove it. The Katchakid uses an average of 12 to 16 pulleys per net. Larger pools, those over 43 feet, usually require two CTS systems allowing the Katchakid to be removed, replaced and tightened with relative ease.
KATCHAKID'S PULLEYS
Over the past 30 years Blair Esson has experimented with many different types of pulleys and has determined that the best pulleys for a pool net are constructed from durable high-grade nylon. Nylon pulleys, while exceptionally strong, are also buoyant, an important factor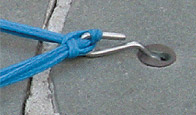 in maintaining the correct level of tension required for safe operation.
KATCHAKID'S FASTENERS
The Katchakid's tangle-free fasteners are precision engineered from high-grade rust-free stainless steel.
KATCHAKID'S ANCHORS

The Katchakid net is secured to the swimming pool's perimeter by attaching fasteners into a series of anchors placed approximately 30 inches apart around the pool's border, about 10 inches from the water's edge.Using a diamond-tipped core drill, a small three- quarter-inch hole is made.
into the pool's surrounding surface and the counter sunk anchor is inserted. Special anchors and hooks are available for above ground pools, woods decks, ponds, fountains and rockeries.
KATCHAKID'S EZ-OFF ROLLER
The EZ-Off lightweight portable storage roller is constructed from high-quality, bright-white furniture tubing.
The EZ-Off Roller makes removal of the safety net quick and easy. It generally takes three to five minutes to remove, and five to eight minutes to replace on an average swimming pool.
The EZ-OFF Roller and the net can be totally removed from the pool area and stored until required.
ANCHOR OPTIONS
NYLON: Counter-sunk durable high-density nylon anchors available in Cream, Gray or Terracotta (red/orange). Color coordination to match decking.
BRASS: Over time, the high-quality counter-sunk Katchakid
SAFETY: All of Katchakid's anchors are foot-friendly and specifically designed to be discreet.